THE 2019 GAMMON CHINA COAST MARATHON AND HALF MARATHON WILL TAKE PLACE ON SUN 20TH JAN 2019
ONLINE ENTRY :   Click Here for Entry
2018 AVOHK 5K Series – Results for Race 3 – Wan Chai Gap – Sat 15th Sept 2018
The weather again was very kind today and thank you to the 261 runners that turned up.  Big thanks to the volunteers that made the race possible.  Stay safe this weekend:
Results:    Click Here for Race 3 Results
Overall after Race 3:    Click Here for Overall after 3 Races
2018 AVOHK 5K Series – Results for Race 2 – Tai Tam Tuk – 1st Sept 2018
Despite the recent heavy rain we managed to get a lucky break in the weather for a few hours.  Thank you to those runners that turned up for the race.  Congratulations to Charlie Stewart for leading the runners home on a very testing course in a time of  18 mins 35 Secs closely followed by Rafe Man.  Great result for Rafe considering he is in the 14/15 age category.  Another impressive run by Mo Devlin in the M50 who finished in 8th overall and Ross Milburn in the M75 who recorded a time of  27 Mins 28 Secs.  Good to see Ng Fai Yeung still running well and winning the M55 category. He is still the current Hong Kong marathon record holder which he set in the early 1990s in 2 hrs 24 mins.  Ken Greer had a very impressive run to win the M60 category.  Equally impressive and the first lady home overall was Cade Wright in a time of 20 Mins 47 Secs in the 14/15 age group closely followed by a great run by Pauline Courret 2nd overall in 20 Mins 53 Secs in 12/13 age group. Winning the W40 Category in a very quick time was Amy Munford in 21 Mins 46 Secs fresh from her 2nd overall place in the Cambodia Marathon in August.   Winning the W45 category was Rachel Sproston with another strong run in 22 Mins 39 Secs.  In the W50 category Angelina Kong continues to dominate and finished in a time of 24 Mins 22 Secs.  Another impressive run by Rebecca Lau to win the  W70 category in 32 Mins 8 Secs.  Again many thanks to all the volunteers that came out and supported this race.
Results:  Race 2 – Click Here
Overall :  Click Here – Overall after Race 2
2018 AVOHK 5K Series – Results for Race 1 – Bowen Road – 18th August 2018
The weather was very kind today and even a tree blocking Bowen Road did not stop the race going ahead.  372 Runners started and finished.   Congratulations to Harry Loadsby for leading the runners home in a time of 17 Mins and 2 Secs and to Rachel Friend who was the first lady home in a fine time of 19 Mins and 5 Secs.  A  special mention goes to John Fowler and Yip Sing So who competed in the M80+ age category.   Well done to Freeman Lee (Race Director)  and all the Volunteers for putting on a wonderfully well organised race.
Results:     Race 1 – Click Here
Current Entry List:  Click Here
PLEASE REMEMBER TO BRING YOUR OWN WATER BOTTLE AND YOUR RACE BIB TO NEXT RACE
Registration for AVOHK 5k Series 2018 is now CLOSED FOR RACE 1.     https://registration.mylaps.com/avohk-5k-series.
All four races start at 8am on Saturday:

Race 1 (18/8) – Bowen Road
Race 2 (1/9) –   Tai Tam Tuk Reservoir
Race 3 (15/9) – Black's Link
Race 4 (29/9) – South Bay

Age categories from 12 to 80+.
.
2019 Gammon China Coast Marathon will take place on Sunday 20th Jan 2019
 .
Online entry will be available in October
.
The races will be held in the following locations and with age categories up to 80+  
Race 1 – Tai Lam Chung Reservoir – 9am Sat 13th October 2018
Race 2 – Aberdeen Reservoir – 9am Sat 3rd November 2018
Race 3 – Tai Tam Reservoir – 9am Sat 15th December 2018
Race 4 – Shing Mun Reservoir – 9am Sat 12th January 2019
AMA Veterans Officiating Course – 22nd to 25th Nov in Jakarta
AMA will be holding a Veterans' officiating course in Jakarta from 22nd to 25th Nov 2018.  At the last course Hong Kong had 2 representatives and
both were subseqently invited to officiate in Lyon, Perth and Daegu.  For further details contact Bill Purves at shtb@i-cable.com
AVOHK AGM – 7pm Thurs 14th June 2018 at Cafe 8
Congratulations to Ross Milburn and Rebecca Lau on being awarded  AVOHK Athlete of the Year at the 2018 AVOHK AGM.  Very worthy winners.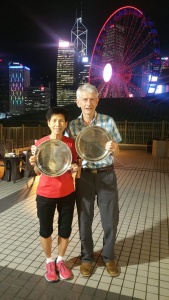 Great talk by our guest speaker Chris Watts from Motion Dyamics on Mobility
MALCOLM PHILLIPS 5K RACE – 4PM SAT 12TH MAY 2018 – Results
AVOHK  organise this historic event in conjunction with the HKLRRC in memory of long time AVOHK and Ladies Road Runners member Malcolm Phillips, who so sadly died in May 2006.  Malcolm was a great AVOHK supporter and active member, both participating in races and as an organiser. He is so sorely missed by all but especially by the running community. Malcolm is always in our thoughts.
AVOHK 2018 – ROUND THE ISLAND -SUNDAY 15TH APRIL 2018 – Results
Thank you to all the volunteers that manned the checkpoints and provided the additional variety of refreshments to the runners.  Also a big thank you to the team that marked the  64K course the day before and to the team that delivered that all important commodity water (no bottles this year).  It was a wonderfully well organised race by Dave Smith the Race Director with much assistance from Catherine Leonard and great support from AVOHK Club members and many other volunteers.  The conditions at times were extremely challenging for everyone but the day ended with some nice weather.  Well done to all the winners in the various categories especially to the True Grit winner Brian McFlynn who won in a time of  5 hours 45 mins  which included a 25 minute penalty for arriving too early!! followed by Giuseppe Mollica in 6 hours.  In the ladies Charlotte Cutler and  Ann Cheng-Echevarria came in together in 6 hours 55 mins.  Thanks to all the runners and volunteers that attended the prize giving at Cafe 8 on Wed 18th April 2018.  It was a wonderful evening.  For any queries contact:  roundtheisland2018@gmail.com
RTI 2018 True Grit Results – With Splits
RTI 2018 Whimps Results – With Splits
THE 2017/18 PERMASTEELISA RESERVOIR SERIES – Overall Results
Race 1 – 9am Sat 14th Oct – Aberdeen Reservoir – Click Here for Results of Race 1
Race 2 – 9am Sat 4th Nov – Tai Lam Chung Reservoir – Click Here for Race 2 Results  

THE 2018 GAMMON CHINA COAST MARATHON AND HALF MARATHON HELD ON SUNDAY 28TH JAN 2018.  RESULTS AVAILABLE
A big thank you to all the runners that supported this years race.  Everyone seemed to enjoy themselves and we were blessed with good weather.  Thanks also to all the many volunteers that helped AVOHK put on this event, the Community Chest, Echo's walking group, Hong Kong Adventure Corps, Taiquain, AVOHK Club Members, the Hong Kong Police (great job on traffic control) and of course our sponsors Gammon who are so special to the China Coast Marathon.  AVOHK could not have put on this event without volunteer Race Directors Dave Smith and Catherine Leonard who spent many months planning and co-ordinating the 2018 Gammon Marathon and Half Marathon.  Dave & Catherine an outstanding job.  For all those asking, Catherine is making good progress after a traffic accident on 25th Jan and is now back at home recovering.
AVOHK have had some very nice complimentary emails from runners and this sums up the event:  From AM:
"Yesterday's race was awesome and the Organization and logistics were top class. A huge thanks to you , your team and all the volunteers!"
Race Video
Race Pictures:
http://www.avohk.org/galleries/2018-gammon-china-coast-marathon/
Marathon :  2018-ccm-marathon-results             Half Marathon:2018-ccm-half-marathon-results
AVOHK Club Results:
AVOHK 1/2 Marathon Men Over 40                           AVOHK 1/2 Marathon Women Over 40(Revised)
AVOHK 1/2 Marathon Men Under 40                         AVOHK 1/2 Marathon Women Under 40
AVOHK Marathon Men Over 40                                 AVOHK Marathon Women Over 40
AVOHK Marathon Men Under 40                               AVOHK Marathon Women Under 40
Marathon – Men
1. Tung Hoi Yip – 2:56:23
2. Robin Fall – 2:57:57
3. Chi Yung Lam – 3:05:00
Marathon – Women
1. Marcia Zhou – 3:21:44 – 4 time winner
2. Yuk Lin Tze – 3:40:44
3. Janine Canham – 3:48:01
Half – Men
1. Samuel Fletcher – 1:18:37
2. Vlad Ixel – 1:19:40
3. Brendon O'Boyle – 1:20:13
Half – Women
1. Yann Kai Oh – 1:32:34
2. Miho Kawabe – 1:34:27
3. Manon Peters – 1:38:48
Any queries please contact chinacoast@avohk.org
25th November 2017 – AVOHK 35th Aniversary Handicap Race
On Saturday 25th November AVOHK celebrated their 35th Anniversary having been formed in 1982.  A 5km handicap run was held in the afternoon starting at Wan Chai Gap over an undulating course.  Chief Handicapper Dave Smith used all his experience and knowledge to be as fair as possible and at the same time making it a fun event.  All claims that they were not that fit fell on deaf ears.  The field of 24 runners contained 1 ex Olympian, 2 former international swimmers and Albert the Dog.  An interesting mix.  Mr Lo was first away and all the runners were a bit concerned when they saw Mr Lo charging up the first hill.  Their fears were realized when Mr Lo came home over 10 minutes in front with a well deserved win followed by the evergreen John Fowler in 2nd place and Ross Milburn in 3rd.  Stuart Leckie making a welcome appearance on the roads and wearing a very historic AVOHK vest scored an impressive 4th place.  Peter Brown an out of town AVOHK Member with his very colorful long stockings and making a flying visit to Hong Kong finished in a credible 5th place.  Peter it was nice to see you again and thanks for dropping by.  Albert the only dog taking part brought up the rear just behind owner Rachel.  In accordance with IAAF rules Albert was removed from the results.  Results can be found here:  Click Here



AVOHK Casual Club Evening at Cafe 8 with David Bedford OBE Former 10,000m World Record Holder, former World Cross Country Champion and former Race Director of the London Marathon (1986 to 2012) – Guest of Honour for 2017 Gammon China Coast Marathon